Have you ever heard of a sundog?
Well, about a year ago, I saw one. I didn't have a clue what it was. But I knew it was strange. On my way home from Saturday's extravaganza, I saw more! I was driving. On dual carriageway, so I couldn't stop. And they can be brief! I joined the motorway. I still cannot stop. Now it is behind me, and I can see it in my wing mirror! I have to stop! Services appear, and I drive into them. I am 3 miles from home and I stop at a motorway services!
Leap out of the car, camera in hand, turn round, and where is my sundog? hiding behind the trees! I had to run across the car park to where I could see it, and the man in the next car was watching me as though I was mad! Photo taken, back in the car- and home!
Okay, the sun dog in my photo is that bright spot of rainbow to the left of the street lamp, and there is another one the other side of the sun, but I couldn't get both in the picture! You know, as a child, you were told you only get a rainbow with the sun behind you, and rain in front? Not true! sundogs show that!
Oh, well, this is the sort of thing that excites me- my DH thinks I am daft. He could have a point.
Ok a couple of other 'stuff' Can any of you go over and welcome a new blogger, please. She is called Bri, and very new to blogging, but she has done some nice stuff, which you can see on her baby blog,
'Eve to Ruby
'. She has filled in a space on our Stash Bee, when someone else had to retire, so she is a star, and to be encouraged.
Second,
Lucy
is hosting a fluffy sheep giveaway. I know, I shouldn't tell you, but she is such a love, as is
Cindy
, that I just have to share.
Third there is
this
going on, Pin it to win it, at
Fresh Squeezed fabrics
. I do not know if she means international or not, but she doesn't say, ' not', so perhaps it is.
The idea is, that you pin a FQ bundle you like, and then get folk to repin it, from the etsy shop, and if you can get the number of repins to equal the dollar value, you win the bundle. Sounds a bit too good to be true? Well, does to me! Anyway, I have pinned a small bundle, and if you would care to repin this, - I will return the courtesy- and see what happens.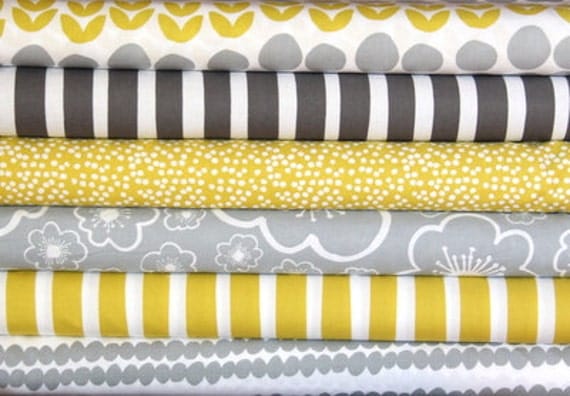 This is the bundle I chose to pin, Bella 6 pieces, at $15.75. So I could do with 15 folk to repin, in the next three days.
I love that lemon and grey together.
If you let me know you have done it, and what you have selected to pin, I will go repin for you.
Please?